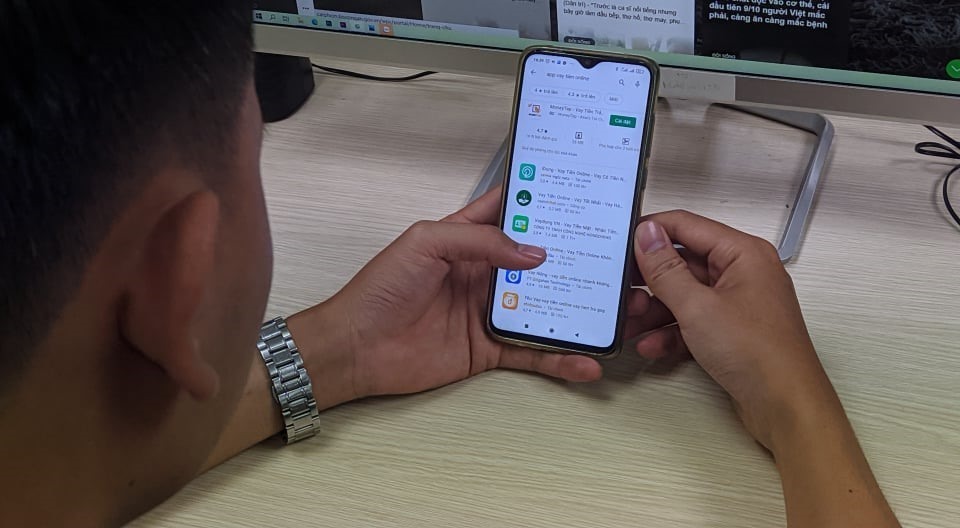 People lose while falling into the consumer loan trap
Some people who did not make enough money because of the Covid-19 and had to borrow money have fallen into the traps set by the loan sharks.
Hoang Van Thanh from Cau Giay District in Hanoi, for example, said he once received a call from a strange number. The appellant introduced himself as the representative of a finance company specializing in the granting of consumer credit.
The man said Thanh could meet requirements to borrow VND 35 million at zero percent interest as part of a program to support people affected by the pandemic.
The man told Thanh to download an app on his cell phone and go through the procedures to get his loan. After the procedure was completed, Thanh was asked to pay a deposit of VND 3.5 million into the company's account. The sum of money will be returned to Thanh with the loan, worth VND 35 million.
However, Thanh did not receive any loans, although he failed to contact the man. As such, he lost 3.5 million VND.
Thanh Thuy in Ninh Binh told reporters that she received a message stating that she was eligible for a loan worth VND 50 million and that she had to pay a fee of VND 4 million.
As Thuy did not have 4 million VND, he was advised to borrow this amount of money from an app. After paying a "fee" worth VND 4million and completing the account login steps, she saw the notice that the account had been frozen.
When she contacted the person who sent the message, she was told that she had made a mistake while logging into the account, so she was unable to get approval for the VND 50million loan and she had to pay a fee of VND 10 million.
Thuy again had to borrow VND 10 million from other apps to pay the "fees". However, she was unable to access the VND 50 million loan as promised.
Thuy realized that she had been deceived and that the applications which had lent her 14 million VND belonged to the same network. She decided she would not pay the debts. However, she was harassed daily by lenders, who made hundreds of calls demanding payment of her debt, insulting and threatening her.
VietCredit legal experts said that scammers today are using very sophisticated tricks to defraud people.
They lend money through an app called Space, while using names similar to the names of finance companies, and illegally use information about head offices and branches of finance companies to cause misunderstandings, which helps them to recover the borrowers' money.
At first, the crooks approach people who want to borrow money through Zalo, and offer them attractive loans. They ask borrowers to install apps and then ask borrowers to put down a down payment to prove their creditworthiness. They say that the deposits will be repaid when the borrowers receive the loans.
Another trick used by scammers is to pretend to be executives of financial companies and ask people to provide personal information (ID card, bank account number, OTP e-wallet, etc.)
After obtaining information, crooks withdraw money from borrowers' bank accounts through e-wallet transactions and block all contacts.
Many people who were victims of the fraud reported that the crooks who contacted them claimed to be from the financial company VietCredit.
However, VietCredit stated that they were just impostors and that any institution or application called "Space" had no relation to VietCredit. VietCredit does not require borrowers to make a down payment to prove their creditworthiness.
A representative of VietCredit recommended that borrowers do not provide any personal information to strangers in any form.
Lawyer Truong Thanh Duc said that no financial company or commercial bank provides loans with such simple procedures, and people should be wary of lenders who disburse money so easily. When borrowing money, people have to go to the head offices of banks or finance companies and follow the necessary procedures.
Tran Thuy
"Black credit" lenders pose a serious threat to borrowers
Experts have repeatedly sounded the alarm bells about black credit, which has serious consequences for families and society.
Over 6.4 million poor households have access to social policy bank loans
By March, more than 6.4 million poor and near-poor households had obtained loans from the Vietnamese Bank for Social Policies (VBSP).